As the temperatures drop and leaves begin to fall, the frosty joys of the season require a whole new set of gardening skills.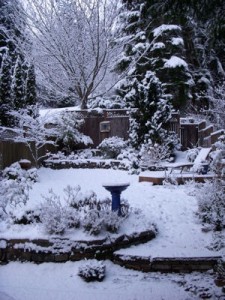 Any of your container plants still outside after summer's end will need to be moved inside before nighttime temperatures begin consistently dipping below 45 degrees if they are to survive. First move your plants into a protected area, such as you garage, and spray them thoroughly with a pesticide (ideally an organic one) to rid the plants of insects and crawling pests. An hour or two later, move the plants indoors to a warm room with plenty of light. Reduce your watering habits- check the soil about 1" deep for dryness before watering over the winter. However, never wait until the plants start drooping or showing signs of stress before watering. Use a mix of very light strength fertilizer when watering. Your potted plants will also enjoy occasional misting and light pruning over the winter to keep them looking tip top and happy.
For weather hearty outdoor plantings, there are lots of pretty "winter" flowers available now. Among the showiest and long lasting are pansies and violas. New and unusual color combinations are being developed each year by growers. As time goes on you can expect an ever changing panorama of possibilities and no need to feel bored with this colorful flower group! Pansies and violas need to be planted in pots or garden borders where they'll receive a good bit of full sun each day for best bloom performance. When planting, scratch a small amount of blood/bone meal into the dirt surrounding the plant hole. Thoroughly water in your newly planted hopefuls and re-water every 8-10 days, as early in the day as possible if no rain has occurred. Be careful to not overwater or keep the plants in soggy soil lest they will not be happy. Add new blood/bone meal to the surrounding soil every 4 to 6 weeks for the best show of color during the otherwise dreary days of winter.
Another winter favorite and in-home brightener is the poinsettia. Although traditional red is the most popular choice, there are many, many other choices to select from these days. When you bring your holiday poinsettias home, try to keep them in a room of average temperature during the day and cooler temperatures at night (around 60 degrees if possible). Avoid displaying them in your home in cold, drafty spots or close to heat sources or hot air vents. Look for a spot with bright, indirect light- never place them in a directly sunny spot. Keep the soil lightly moist and use a very low strength fertilizer at every watering. This should keep them healthy and happy for a long time. The only problem with a well-tended poinsettia can become one of what to do with such a beautiful plant after the holidays have long since passed!
The sweet plants of winter appreciate the care you give them even more, it seems, than summer flowers. With just a little consistent attention they will pay you back proportionate to the time and energy you spend on them. What a wonderful win-win pursuit- coaxing your "lovelies" to applaud and entertain you during those cold, uninspiring months until the riotous blooms of summer come along again.
For questions or other plant advice, call Libby at (501) 329-1358.
Author: Libby, Owner of Conway Gardens & Pools